Sarah Blacklin, NC Choices Program Director sarah@ncchoices.com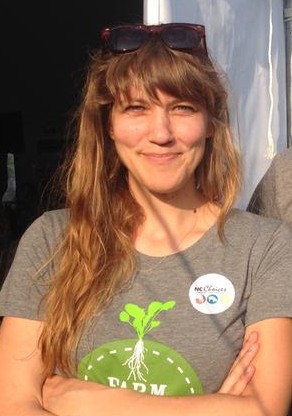 Sarah Blacklin is an NC Cooperative Extension educator and Program Director at NC Choices. Sarah has over 12 years of experience helping small farmers in NC maximize direct and wholesale marketing efforts to enhance profitability. She deals directly with businesses along the entire local and niche meat supply chain and she has established relationships with many of the now over 800 niche meat producers in NC including 15 commercial meat processors, 20+ Cooperative Extension agents, eight state and federal regulatory agents and various allied businesses. Sarah's work of extending educational programming, networking opportunities and technical training to sustainable food businesses has gained attention on the local and national scale. Among other activities, Sarah serves on the board of the National Niche Meat Processor Assistance Network and the Southeast Sustainable Livestock Coalition.
---
NC Choices Advisory Committee:
Amanda Carter, Operational Manager at Foothills Pilot Plant
Casey McKissick, Foothills Farm and Butchery and consultant
Chad Ray, Ray Family Farms
Debbie Hamrick, Director of Specialty Crops, Farm Bureau
Emily Lancaster Moose, Director of Communications and Outreach, Animal Welfare Approved
Jennifer Curtis, Firsthand Foods
Johnny Rogers, Amazing Grazing Program Coordinator, Rogers Cattle Company LLC.
Lee Menius, Wild Turkey Farms
Dr. Matt Poore, Extension Livestock Commodity Coordinator, Professor & Extension Ruminant Nutrition Specialist, Animal Science NCSU
Dr. Nancy Creamer, Director of the Center for Environmental Farming Systems
Dr. Noah Ranells, Marketing Extension Specialist at NC A&T University
Dr. Rebecca Dunning, Senior Research Scholar, NCSU University
Smithson Mills, consultant Smithson Mills, Inc.