The Carolina Meat Institute is an NC Choices initiative that provides interactive trainings and conferences focused on local, niche and pasture-based meat supply chains with the goal of connecting key people and sharing ideas and resources. Our most well know event, The Carolina Meat Conference, offers 2 days of hands-on meat cutting instruction, panel and round-table discussions, presentations and ample networking opportunities for producers, buyers, processors and other meat professionals.
ONLINE REGISTRATION IS NOW OPEN FOR THE 3RD ANNUAL CAROLINA MEAT CONFERENCE, DEC.9TH-DEC.10TH
REGISTER TODAY. There will be a 30 day window for online registration this year.Registration closes Wednesday, December 4th at 11:59 pm.  A full class schedule will be available soon.
$155 General Sessions (online registration 11/4-12/4) includes meals Monday lunch through Tuesday lunch. Includes Monday's ever popular social event, Local Beast Feast, Cleaver Awards and Keynote Address
$225 General Sessions (ONSITE REGISTRATION, if available) includes above.
With a General Sessions purchase you may add these workshops at the discounted rate below.
$250 add Hands-on Whole Hog Butchery Workshops for Home Chefs – Tuesday, Dec.10th.  Session is 4 Hours. Limited to 10 participants per session with 2 instructors.  Choose between:

Beginning Butchery for Home Chefs, Tues. AM
Advanced Butchery for Home Chefs, Tues. PM.
$300 add Hands-On Whole Hog Butchery and Advanced Charcuterie for Professional Chefs- Monday, Dec.9th. Session is all day at 7.5 hours. Limited to 10 participants per session with 2 instructors. 
Lodging is available at the conference rates of $99/night at Marriott Twin City Quarter. Click here to make your reservation.
THE 3RD ANNUAL CAROLINA MEAT CONFERENCE: Downtown Winston Salem, Dec.9th-10th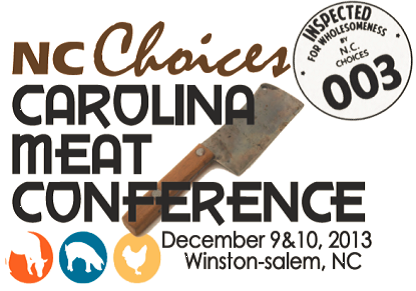 NC Choices Carolina Meat Conference enters its third year of innovative educational programming and unparalleled networking opportunities for niche meat supply chain partners including farmers, processors, chefs, buyers and industry support businesses. The Carolina Meat Conference is a gathering of professionals from all sectors of the local and niche meat industry for two days of panel discussions, presentations, workshops, live butchery and animal handling demonstrations, a trade show, great meals featuring local meats and Monday night social, dinner and keynote address. Conference topics include livestock production, meat processing, innovative marketing techniques and the latest updates on how new regulations will affect small food businesses.
KEYNOTE SPEAKER: ANYA FERNALD

Anya Fernald is the co-founder and CEO of Belcampo Meat Co., a group of innovative agricultural companies in California, Belize and Uruguay that strives to make good food the old fashioned way on an unprecedented scale. Belcampo is an integrated company which owns a 10,000 acre ranch, a grain farm, a slaughter-house, retail butcher shops and a restaurant. Belcampo looks forward to offering its business model as a financial case-study. "People in the food world think that if you start talking about money, it's like saying you don't care," Anya tells Food and Wine magazine. "Some people- I call them "brokavores" are so local, they're broke. I'm not interested in doing small, perfect things" but, she adds, "There's no guarantee any of this will pencil out." As the local and niche meat industry grows, companies that can achieve an appropriate scale will play a pivotal role in addressing some foundational issues of economies of scale in local meat.  Anya has been recognized as one of the "40 under 40" by Food and Wine Magazine, named a "Nifty Fifty" by New York Times, appeared as a regular judge on Iron Chef America on the Food Network for three seasons and has co-authored two books for Slow Food's international publishing house.
WHAT IS THE CAROLINA MEAT CONFERENCE ABOUT?
PAST CAROLINA MEAT INSTITUTE EVENTS:
Women Working in the Meat Business: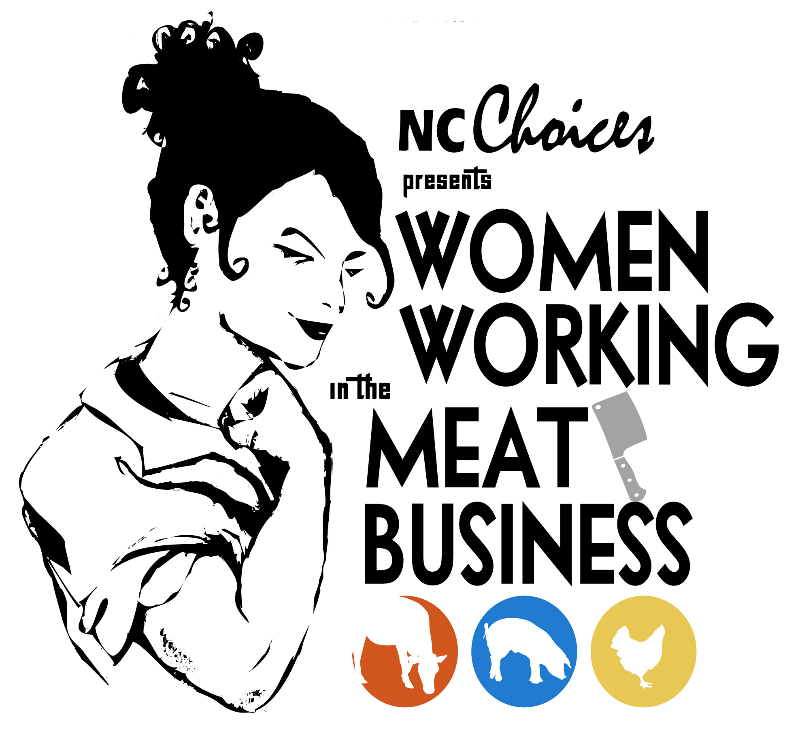 View pictures from the 2013 Women Working in the Meat Business Retreat by Briana Brough. More pictures can be viewed on the NC Choices facebook page.
**************************************************************************************************************************************************************************************************
2nd Annual Carolina Meat Conference:

The 2nd Annual Carolina Meat Conference, featuring Dr. Temple Grandin, was a great success!  Thank you to all of the sponsors, volunteers, speakers, and attendees who made this year's gathering possible.  View a slideshow of the event.